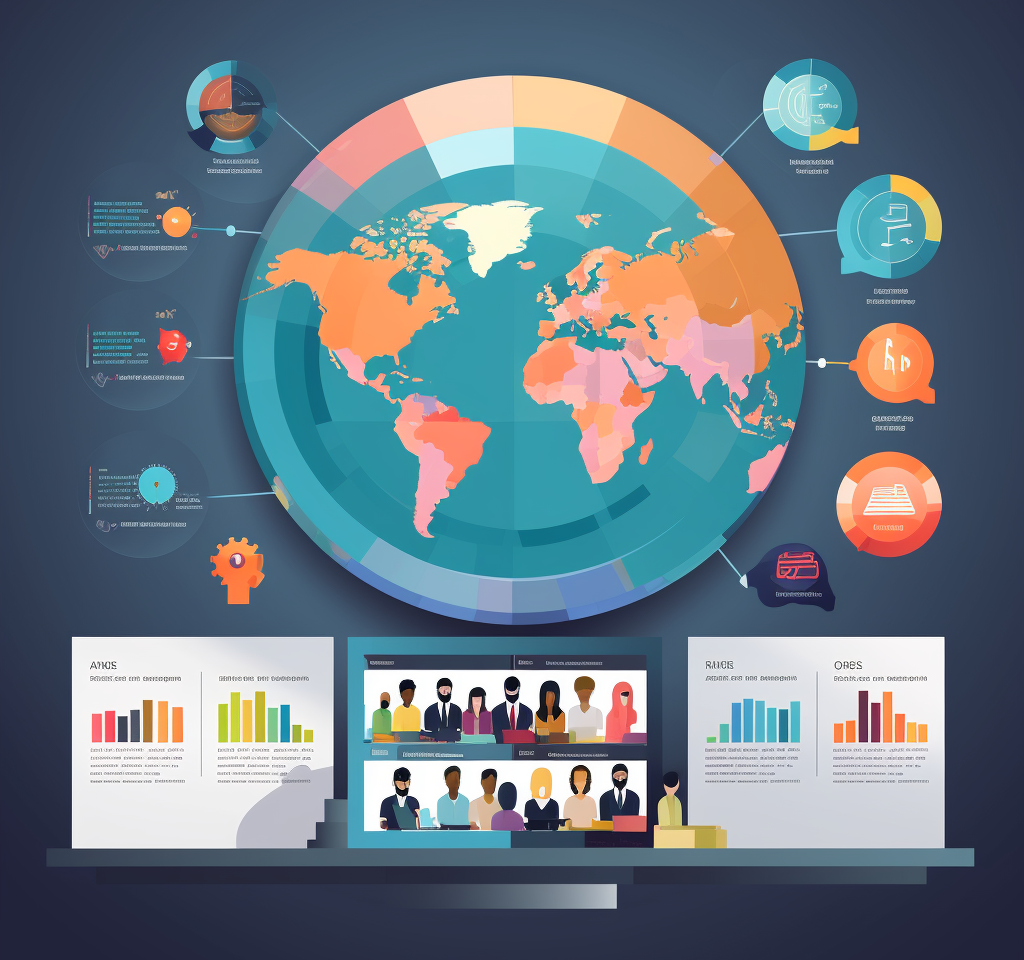 Amref Health Africa Empowered with Power BI: Unleashing the Potential of Data Insights
In a bid to drive lasting health change across Africa, Amref Health Africa, the largest health organisation in Africa, has embraced the power of innovation and data analytics. Partnering with the Analytics for a Better World (ABW) Institute, a collaborative effort between University of Amsterdam and ORTEC, Amref has embarked on a transformative journey towards optimizing their work and internal processes. As part of this partnership, a comprehensive Microsoft Power BI training program was recently concluded, empowering 25 Amref colleagues from diverse domains and countries to harness the potential of data-driven decision-making.
The training program, conducted between March and June 2023, aimed to create enthusiasm and expertise in developing Microsoft PowerBI dashboards.
The Program
Led by Maarten Kuijpers, Monitoring and Evaluation Advisor at Amref Netherlands, and Parvathy K Krishnakumari, CTO of Analytics for a Better World Institute, the sessions were facilitated by Coen van der Snoek from Cmotions. This online instructor-led training incorporated a beginner-friendly curriculum, ensuring all participants, regardless of their technical background, could engage effectively. Participants from various domains, including WASH (Water, Sanitation, and Hygiene), MEL (Monitoring, Evaluation, and Learning), and Amref Health Innovations, came together from countries such as Kenya, Uganda, Tanzania, Ethiopia, Malawi and even India, representing the rich diversity of expertise within Amref Health Africa and their partners.
During the four blocks of the training program, participants delved into key aspects of data analysis and visualization using Microsoft Power BI, ensuring a well-rounded understanding of the tool and its capabilities. The program commenced with a focus on connecting to data sources, data cleaning, pre-processing, and data modelling. Participants learned to categorize data effectively, establishing a strong foundation for organizing and structuring information to derive meaningful insights. Through hands-on sessions, participants mastered the art of data visualization, acquiring the skills to create visually appealing and impactful visualizations. They explored various customization options and delved into the world of Data Analysis expressions (DAX), enabling them to manipulate data within Power BI. Slicing, filtering, and interactive exploration of data subsets were also covered.
Building on their foundational knowledge, participants advanced their skills in the second phase of the training. Exploring advanced data visualization techniques, performing geospatial analysis, and mastering time intelligence functions, they were able to uncover valuable insights through conditional formatting and create interactive dashboards with dynamic visualizations.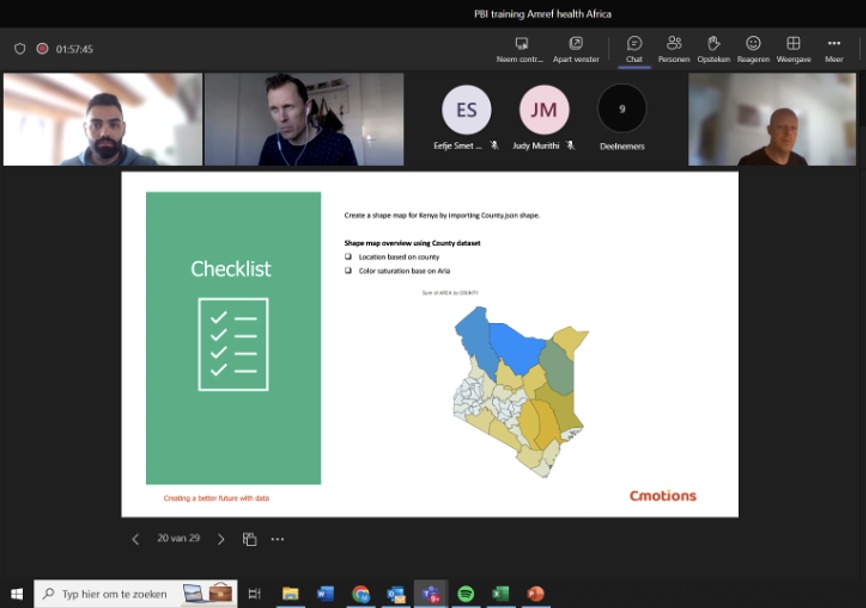 Testimonials
One of the participants, Mihret Ayele from Amref Health Africa in Ethiopia, says: "This training helped me on how to visualize raw data meaningfully in a way it can transfer messages without a person explaining them. Currently, I am using this software to generate visualizations for ARAG (an Amref impact study using longitudinal data). And recently we have started developing a dashboard for the new project "Tena le Selam" we are going to implement. We hope this will be a showcase for other projects in our office to use Power BI for specific projects."
Following the completion of the theoretical sessions, participants entered the practical phase, where they were grouped into subgroups based on their areas of focus. The subgroups, including FINISH (Financial Inclusion Improves Sanitation and Health Project), LEAP (the mHealth platform that trains health care workers), ARAG (Amref Representative Advisory Group), and AHI (AMREF Health Innovations), facilitated exchange and feedback among participants and trainers. This mentoring phase, which spanned from April to June 2023, provided an opportunity for participants to implement their newly acquired skills in real-world projects within their respective teams.
Anastazia Rutatina, an M&E Expert from the Tanzania team, shares her reflections on how the Power BI training has impacted her work: "Thank you for the Power BI training provided. It has been immensely beneficial, especially for my work as an M&E officer during the Midterm Review Assessment. Using Power BI, I could effectively visualize the MTR results and present them in a simple manner to the program team. The interactive nature of PowerBI made it easy for team members to understand the findings and provide valuable input. It has significantly improved our collaboration and decision-making. The content was comprehensive, and the hands-on exercises created a conducive learning atmosphere. The practical application of the knowledge, particularly for the Midterm Review Assessment, was invaluable."
Maarten Kuijpers, Advisor Monitoring Evaluation Learning, and Strategy at AMREF Netherlands, reflects on the training program and acknowledges the challenges that were overcome during the process. He emphasizes the significance of the program, stating:
The Power BI training program has proven to be valuable for our colleagues at Amref Health Africa as there is a growing demand and possibility to create data visualisations upon which they like to respond. Despite the challenges posed by busy schedules of colleagues, connectivity issues and software skills, the team of Cmotions has been able, with clear instructions and demonstrations to give a basic understanding of Power BI to a varied group of users in our organisation. I am curious to see how these skills are applied in the nearby future by my colleagues, hoping that the development and use of data visualisations within Amref Health Africa further expands and deepens.
Parvathy Krishnakumari recognizes the value of peer learning and hands-on training sessions tailored to the unique needs of non-profit organizations and shares her perspective:
Peer learning-focused, hands-on training sessions like the Power BI program are crucial for non-profit organizations. By tailoring the training to the specific data and challenges faced by the organization, we unlock the potential for innovation and transformative solutions. The interactive nature of the sessions fosters collaboration and encourages participants to explore new ideas and approaches. When team members from different domains come together, synergies are formed, leading to breakthrough insights and novel strategies for implementation. This type of training sparks inspiration and enables participants to think creatively about leveraging data for meaningful impact. At ABW, we believe that empowering non-profit organizations with the skills and resources they need to effectively analyse and visualize data is key to driving lasting change. By designing training programs that cater to their unique needs, we create an environment where innovation thrives, and new possibilities emerge.
With ongoing support from Analytics for a Better World Institute, Amref Health Africa is poised to embrace a data-driven future, where innovative solutions and informed decision-making converge to transform lives and create a healthier Africa.