Page not found
Join our team and increase our impact!
To increase our impact and pursue our mission, we are looking for an extension of our core team. This person should be able to fulfil two skill sets and responsibilities: operational project management, and hands-on project execution. You can find more details below:
Analytics for a Better World is a nonprofit institute aimed to bring together purpose-driven nonprofits (NGOs/public sector), companies and researchers (see Figure 1) to contribute to the Sustainable Development Goals with Analytics (see Figure 2). We are collaborating with a broad set of nonprofits (Amref Health, 510 an initiative by the Dutch Red Cross, World bank, and several sponsors/organizations (University of Amsterdam, ORTEC, and more will be announced).
Who are we?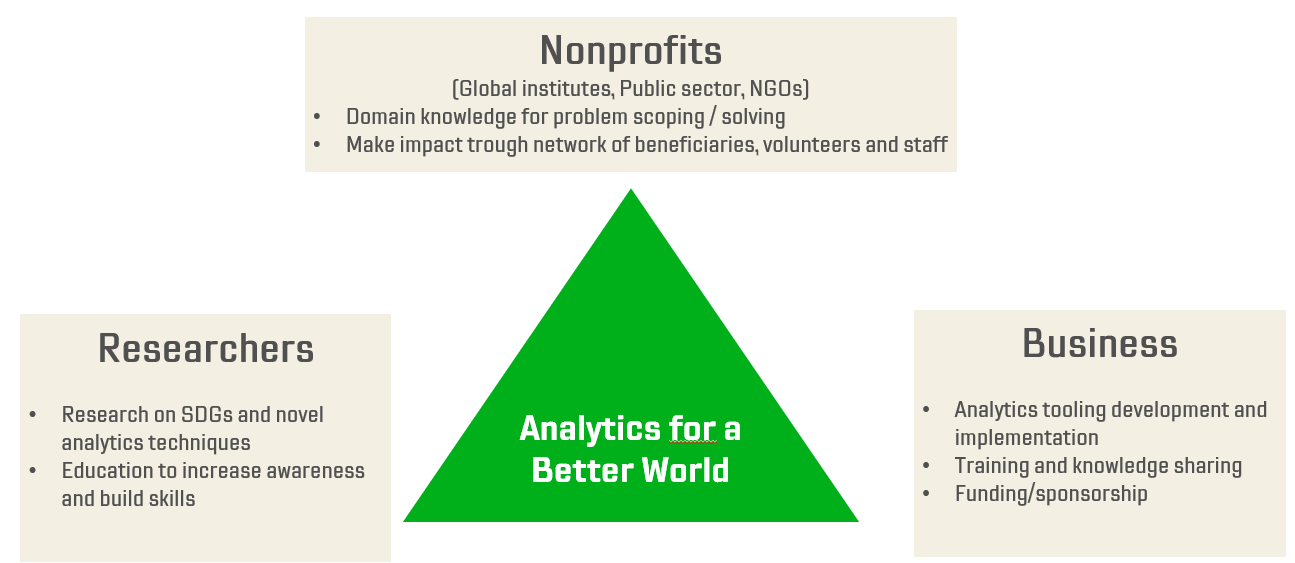 Together with our network we are pursuing a broad range of activities to fulfil our mission:
ABW|Research: Developing advanced and impactful analytics models and techniques relevant for societal problems related to the SDGs
ABW|Projects: Helping NGOs to carry-out analytics projects and develop scalable, replicable tools (developing strategy and organizational roadmaps, consulting, software development etc.)
ABW|Academy: Tailored/Customized inhouse courses and/or open enrolment Summer and Winter schools on Analytics for NGO employees
ABW|Meetups: Seminar series for researchers, employees at NGOs and others within our community on Analytics
ABW|Journal: A new scientific journal for impactful papers on analytics related to SDGs
ABW|Repository: An open-source database storing applications developed for NGOs, for re-use at other NGOs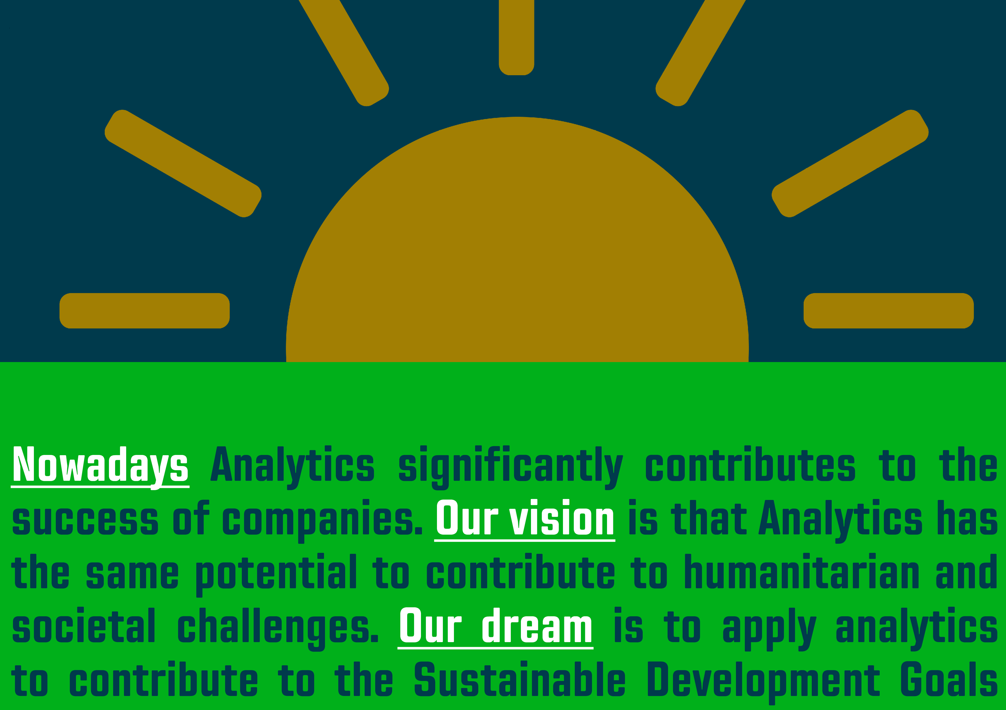 We're looking for a purpose driven and enthusiastic person to join our core team, who has the following characteristics:
Responsibilities
Manage and lead project portfolio, align between sponsors, delivery partners and nonprofit/NGO projects
Manage and lead nonprofit Analytics implementation and research project as PM or project lead
Execute hands-on nonprofit Analytics implementation and research project as one of the following roles: product owner, data scientist, data engineer or analyst
Manage and lead programs and projects that grows the data and analytics capability of our nonprofit partners
Manage projects budgets and operations P&L
Manage event portfolio, lead the ABW Academy and co-ordinate a team to execute the yearly ABW conference, academy (3 tracks) and regular meetups
Support outreach and partner development (co-writing grants, joining strategic partner meetings, networking, contributing content for website and online channels)
Community management (bringing together our 3 target groups)
Team and collaboration
You will report to the Managing Director, who's responsible for ABW mission and strategy, general affairs, overall P&L, partner management & development and outreach
You will collaborate with the CTO (on analytics implementation projects, academy, and other technical roadmaps and content)
You will collaborate with the ABW Science to Impact co-directors (on analytics impact research, Journal, and meetups)
Work closely with and co-ordinate implementation and delivery teams from our company sponsors
Collaborate and when required co-ordinate with researchers from our academic partners/sponsors
Work closely with our other stakeholders, project owners and beneficiaries from nonprofit partners
You are or you have:
Data science project execution and lead/management skills:
Able to keep the operational overview of a growing, ad-hoc, flexible and versatile environment/organization's project portfolio
All-round experience with successfully executing, planning, and management of technical and research-oriented projects (cost/effort estimation, planning, stakeholder management, scope, budget management, delivering impact and results)
Ability to lead projects in a multi stakeholder and collaborator environment (our projects have multiple sponsors or delivery partners, and multiple beneficiaries/clients/donors)
An experience with applying analytics in developing countries, and partnering with NGOs and public institutes to drive impact (is a plus)
Ability to execute and manage a broad range of projects from large 'multi-year, multi-stakeholder projects' to 'smaller, hands-on pro-bono projects'
Event planning and management (conferences, meetups, training programs)
General skills:
Experience and a relevant network in OR4good, AI4good, tech4good, data4good or similar is a plus
You have at least 5 years of working experience in a similar role where you gained strong analytical skills and up-to-date knowledge of handling diverse types of data including but not limited to Satellite Imagery, Crowdsourced data, Text, etc..
You have familiarity and strong understanding of a subset of the following: Cloud, Data Engineering and Architecture, Analytics, Operations Research, Machine Learning and AI
Experience in collaborating with nonprofits and NGOs, researchers, and companies is a plus
Long term focus on building value added and sustainable partnerships
A motivation to contribute using analytics to a better world
Team and vision:
You are fun to work with and enjoy collaboration with a wide range of people
You are a believer, have a positivist mind and are a proactive problem solver
You believe in the added value of analytics for the SDGs
Your heart skips a beat when impact is made on the SDGs
You are detail oriented, pragmatic, flexible, strong communicator, and a proactive self-starter
We're open for applications and resumes. Send your motivation letter and resume to hello@analyticsbetterworld.org
January-February 2023: Selection of candidates based on resume and motivation
January-February 2023: Interviews
1 March 2023: Envisioned start date
If you are excited, this is our application process
We're looking forward to meet you!